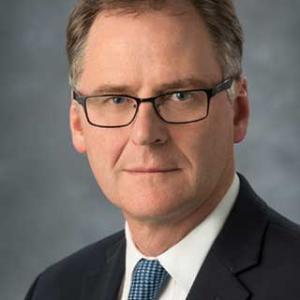 Jay Chalke
Jay Chalke was appointed Ombudsperson in May, 2015 by unanimous motion of the Legislative Assembly. His six-year term as Ombudsperson started July 1, 2015.
Jay has an extensive background in executive leadership, the conduct of fair and independent investigations and the use of modern approaches to dispute resolution.
From 2011 to 2015 Jay led the Justice Services Branch of the Ministry of Justice and was responsible for delivering reforms to justice services and fostering dialogue and collaboration across the justice system.
Prior to his appointment with the Ministry of Justice, Jay was the first Public Guardian and Trustee of British Columbia from 2000 to 2011. During this time, he was instrumental in implementing lasting changes to modernize service delivery, improve collaboration with stakeholders, and enhance public accountability. He was also a member of Canada's delegation to the Hague Conference on Private International Law, which negotiated the Convention on the Protection of Adults.
Earlier in his career, Jay held a variety of public sector positions, including Deputy Public Trustee of British Columbia, Deputy Public Guardian and Trustee of Ontario, Head of the Review of Certain Practices in New Brunswick Correctional Institutions, Senior Policy Advisor for justice policy in the government of Ontario's Cabinet Office, and Crown Counsel with the Ontario Ministry of the Attorney General. He began his career as a Correctional and Psychiatric Services Investigator with the Ombudsman of Ontario.
Jay has served as a member of the Justice and Public Safety Council of British Columbia, and a Governor of the Law Foundation of British Columbia. He is a member of the Law Society of British Columbia, and was appointed Queen's Counsel in 2006.